Planning Press
Risk and Decision Analysis in Projects, 3.1 Edition
by John Schuyler, August, 2018
-->

Planning Press, Aurora, CO, USA
RDAP 3.1 Edition is available from Amazon.com
Risk and Decision Analysis in Projects, 3.1 Edition
ISBN-10: 171901426X ISBN-13: 978-1719014236
approximately 485 pages, paperback, list price US$39.95
Kindle edition, full-page format suited to larger-screen devices, list price US$29.95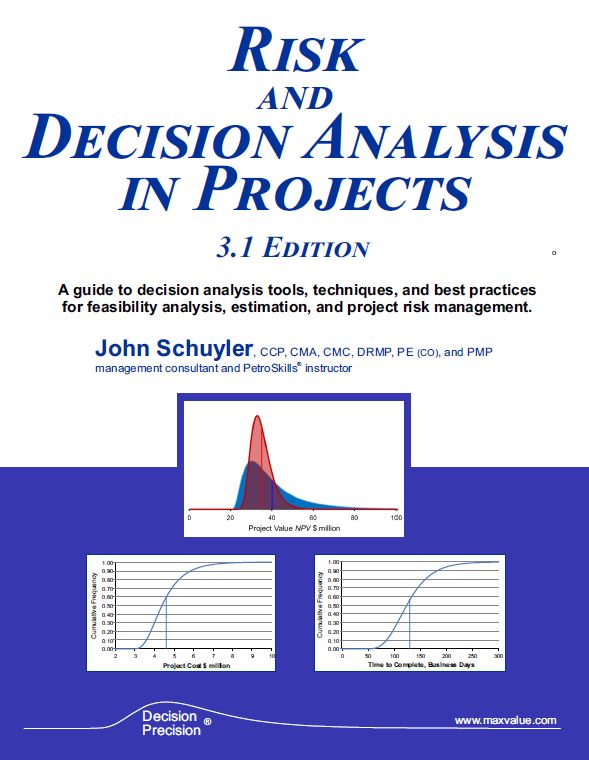 What are the characteristics of successful managers? Surveys consistently show decision-making ability at or near the top of the lists. Perhaps no management activity is more important. Surprisingly, little training investment attends to developing this important skill. In Risk and Decision Analysis in Projects, Schuyler presents the approach and principal techniques of decision analysis to help the reader realize faster, more confident, and better decisions.
This book is a complete rewrite of the best-selling prior editions. Online supplements include models, additional readings, videos, and the Utility Elicitation Program. The methods are proven and accessible. And the techniques are applicable to all types of project decisions, estimates, feasibility analyses, and buy/sell valuations. With practice, decision analysis is easily integrated into a professional's daily problem-solving approach.
Making good decisions over the long term increases the probability of meeting your objectives. Those using decision analysis can sleep well at night knowing that they have made the best possible choices under the circumstances. Reading Decision Analysis in Projects is your first best choice.
CONTENTS
Alphabetical List of Key Topics
@RISK with Microsoft Project
Artificial Intelligence in PM
Competitive Bidding and Winners Curse
Bayes Rule and Equivalents
Critical Chain with Monte Carlo Simulation
Decision Analysis Process
Decision Policy, Three Pillars
Decision Tree Analysis
Expected Value
Earned Value with Simulation
Judgments, Biases, and Correlation
Monte Carlo Simulation
Portfolios, Optimizer's Curse
Probability Distribution Types
Probability Rules
Project Controls
Project Models
Project Portfolios and Optimization
Project Risk Management
Project Risks Catalog
Risk Matrix (improvements)
Risk Policy as a Utility Function
Risk Register and Uncertainty Register
Sensitivity Analysis
Tail Estimate Bias
Value of Control, Flexibility, and Robustness
Value of Information and Bayes' Rule
Variance Analysis, Stochastic Variance
---
Also available:  Decision Analysis for Petroleum Exploration, 3.0 edition
by Paul Newendorp and John Schuyler (2014)
---
Errata, Key Revisions, and Expansions